Let's start with a quiz…
How many senses do you have?
Which of the following are magnetic: a tomato, you, paper clips?
What are the primary colors of pigments and paints?
Which region of the tongue is responsible for detecting bitter tastes?
What are the states of matter?
If you answered five; paper clips; red, yellow and blue; the back of the tongue; and gas, liquid and solid, then you would have gotten full marks on any school exam. But you would have been wrong.
The sixth sense and more
Taste, touch, sight, hearing and smell don't even cover how we perceive the world. We sense movement via accelerometers, which are located in the vestibular system of our ears. The movement of fluid through tiny channels deep in our ears allows us to feel movement and use our sense of balance. Give yourself vertigo and it is this sense that you confuse.
When we hold our breath, we feel our blood become acidic as carbon dioxide dissolves in it to form carbonic acid. Not to mention the senses of temperature, pain and time as well as a myriad of others that allow us to respond to the need of what is happening within us and in the environment around us.
Magnetic repulsion
It's not just paperclips that are magnetic. Tomatoes and humans also interact with magnetic fields.
Paper clips and other objects containing iron, cobalt and nickel are ferromagnets, meaning they can be attracted to magnetic fields. Whereas the water in you and in the tomato – or more precisely the nuclei of the hydrogen in the water in you and in the tomato – is repelled by the magnetic fields. This interaction is called diamagnetism.
But the forces involved are incredibly weak. So normally you don't notice them. Unless you've been in a magnetic resonance imaging (MRI) machine. Inside, a massive magnet manipulates the nuclei of various atoms inside you into detailed images of your inner workings.
Although you don't need to go to the hospital to see diamagnetic interactions. Just use a few cherry tomatoes, a strong magnet, a wooden kebab and a pin:
And the types of magnetism do not end there, but that will be for another time.
You are painting with the wrong color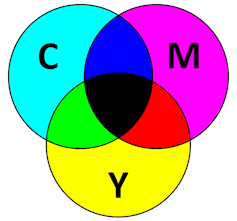 You have been taught that primary colors are those which cannot be obtained by mixing other colored pigments together, and that all other colors can be produced by mixing these primary colors. Red and blue fail on both counts. You can make red by mixing yellow with magenta. While a mixture of magenta with cyan gives blue. Meanwhile, a huge range of hues is unattainable if you start with just red, blue, and yellow.
Color theorists had it all figured out by the end of the 19th century, but for some reason it didn't make it into school curricula. The proof is in your color printer cartridges. They come in cyan, yellow, and magenta, which are the true primary colors.
A bitter taste in the mouth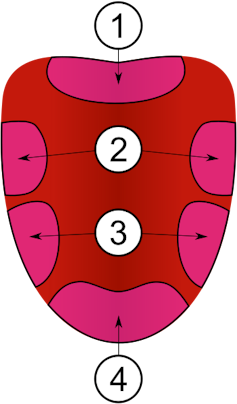 Do you remember those tongue maps that appear in biology textbooks? They clearly show how the bitter taste buds are located at the back of the tongue, with sweet, sour and sweet having their own distinct regions.
These language maps first appeared in 1942 after Edwin Boring of Harvard University misinterpreted a 1901 German study. Despite Boring's error, the maps soon began to appear in texts school. Then, in 1974, the subject was revisited and the whole idea was downright discredited. Nevertheless, more than 40 years later, tongue taste maps still persist in biology textbooks.
Check the status of your screen
We have all learned that solids keep a constant shape because the molecules they contain are ordered. These can melt into liquids which keep a constant volume and can be poured. Liquids evaporate to form gases which expand to occupy the volume they have. Those are the three states of matter, end of story.
Of course, expect more. Liquid crystals have molecules ordered like a solid but fluid like a liquid. These properties are vital for your cells, your shampoo and of course liquid crystal display (LCD) flat screens.
But why stop at four states. There's plasma, the state of matter for most things in the sun, or Bose-Einstein condensates, superfluids, and dozens more.
Time to rewrite the textbooks?
There are more than the five "facts" that need to be corrected in textbooks. I'm not suggesting that we should start teaching 6-year-olds stuff that only appears in Nobel Prize-winning physics labs or stuffing the curriculum with details about dozens of senses. But maybe we should stop telling lies to children.
Maybe a biology lesson should start with, "We have many senses, here are the five we're going to explore." Or a phrase slipped here and there that mentions the existence of more than three states of matter. As for the language map, just tear that page out of the book.
Source link